Eggplants, Katharikkai as called in Tamil Nadu - a Foe turned into Friend. Never used to like them till before marriage. I guess I started appreciating them only when I stepped foot in the US and truly found how difficult it is to get some good old Indian veggies here. It then dawned on me that I was being punished for hating those cute little "eggplant" guys. I started to crazily buy Indian veggies whenever I see a fresh one .. The love for eggplant should have started then. My mom used to cook many varieties of dishes using eggplant. Her stuffed baingan being my favourite. My brother, who was not a big fan of them then, used to pick a big fight with mom whenever she makes them. Well.. gone are those days. There comes a time when everyone realises the goodness in "Eggplants" :) The huge eggplants that one can find here.. well it was not of much use to me until my husband taught me the art of seasoning and deep frying them. Oh my God.. thats pure heaven. The real winner though was my mother in law, who while visiting US taught me this "Kichedi Kuzambu" using the big eggplants that you get here. I never thought I will like Kichedi Kuzambu using katharikkai.. but one has to taste to know. The dish was a huge success and has become a regular at our household.
So, when the JFI event for eggplant was announced, I immedietly knew what to make. The easiest and the simplest.. but doesn't compromise in taste. Now on to the recipe and then off it goes to the
"JFI - Eggplant"
event hosted by
"Sangeeta of Ghar ka khana"
. Thanks Sangeeta for hosting the event.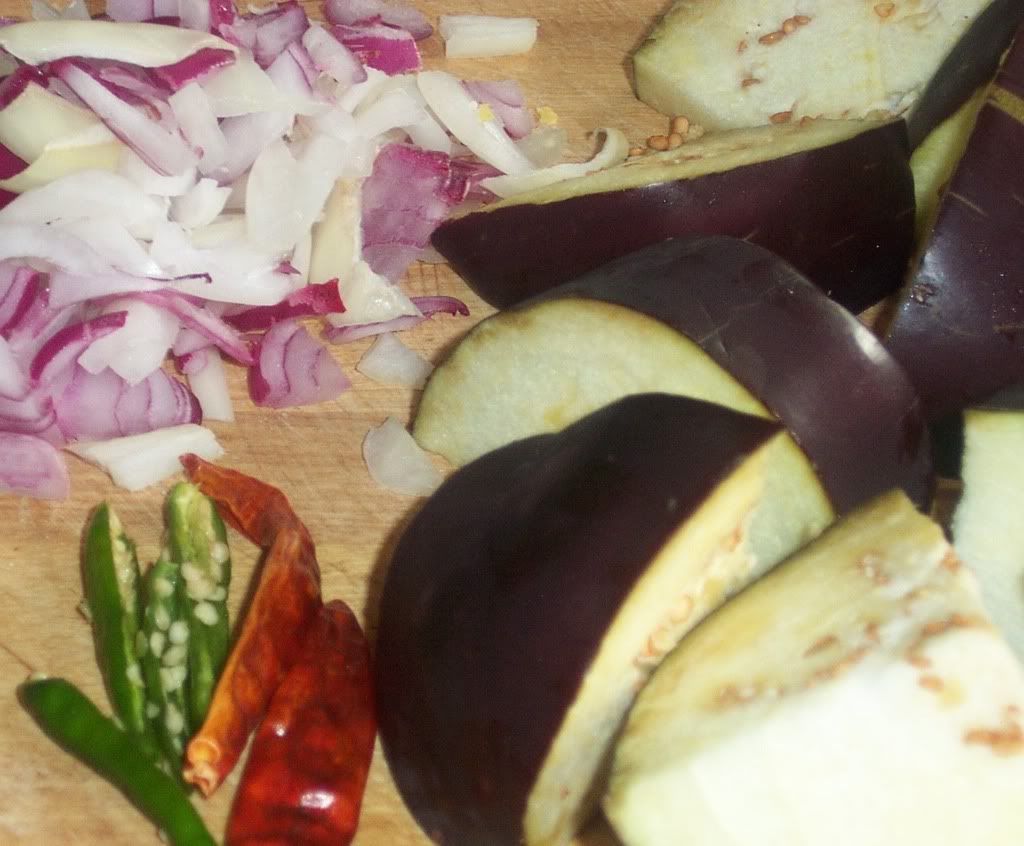 Ingredients:
Eggplant - 1 medium sized
Onions - 1 cup
Slit green chillies - 2
Red chilles - 2-3
Curry leaves
Tamarind paste - 1 tsp
Mustard
Urad Dal
Channa Dal
Coriander
Turmeric powder
Hing
Method:
Cut the eggplants into big chunks
Roast them in a deep tava with 2 tbsps oil on medium high until cooked. The skin should be glossy and wrinkled.
Take them out and let cool. Once cooled remove the skin and mash the eggplant coarsely.
In the same tava, heat 1 tbsp of oil.
Burst mustard seeds, urad dal, channa dal and curry leaves.
Add the mashed eggplant, 1/2 cup water and the tamarind paste.
Also add turmeric, hing and salt.
Let boil until raw smell from eggplant disappears.
Add curry leaves at the end and let simmer for a couple minutes.
Garnish with coriander.
Note: This can be had with ghee, rice and pappad.