Marathon fundraising & Vegetable Biryani.. well doesn't exactly go together but hey ! what are you gonna do about it !!

Its been such a long time since I wrote any posts. More than a month.. I feel bad to have let it go this far but there has been some important and demanding things going on for the past month. There was my kid's birthday party planning and the vacation we had at Florida Disney theme parks, the photos of which I will post very soon.

Other than that, after a two year long break, I am starting work from Monday , so there was this whole process of searching for a day care for my daughter, setting up my work schedule etc., Having been with her at home for two whole years, I am very apprehensive about getting back to work life and being away from her. I have no idea as to how I am going to manage this change.. but I guess we all get used to things eventually. After all you have to let go sometime.
Another very exciting thing happenning in my life - I am running the Portland Marathon this year and I am doing it to raise funds for AID (Association for India's Development) - a non profit organisation based in India. I am currently a volunteer at the AID Portland chapter and very thrilled about doing the marathon for something I very strongly believe in.
AID has been working to eliminate grass root problems in
India
for many years now. We have seen that the effort brings about remarkable changes in people's life and gives them hope for a better future. To continue the good work, we need support from every one of you. It would mean a lot to me if you can please visit my
Marathon Fundraising page
and show your support. Every small contribution from your side is going to bring about a major change to someone's life. I hope to get all the support I need to raise this money from my fellow bloggers, friends and family. The actual marathon date is on Oct. 7th. You can also find weekly updates about my run on the fundraising page.
Phew !.. After that long talk, moving on to the recipe.. Its Vegetable Biryani. A very common food found in almost all Indian states. Its made very differently everywhere and as amazing as it is.. it tastes super good in every form. I guess thats what makes it a more attractive and mess free food. It is almost a one pot recipe.. well not really :) Everytime I make it, it is a little different in some way. This was today's version of the Biryani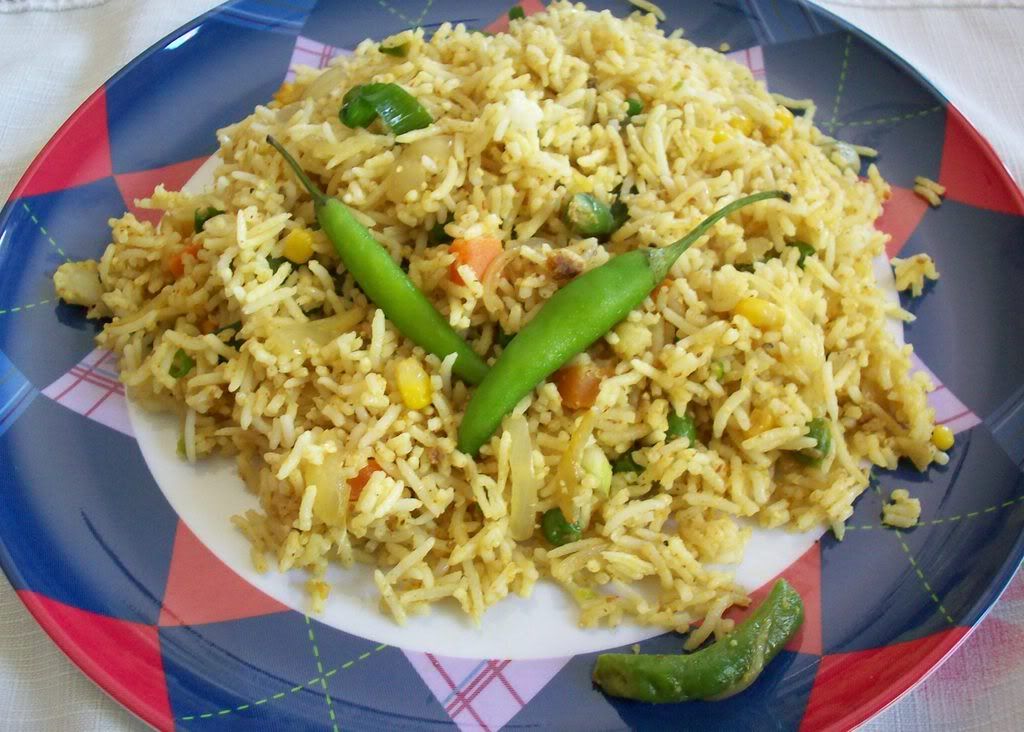 Ingredients


Basmati Rice - 2 cups
Mixed diced veggies (carrot, cauliflower, beans, peas, spring onions) - 1 cup
Onion - 2 medium sized, finely chopped
Oil - 3 tbps
Pepper, whole - 1 tbsp
Haldi - 1 tsp
Garam masala powder - 1/2 tsp
Salt as per taste
To grind


Almonds - 1/2 cup
Cashews - a handful
Green chillies - 4 nos
Cloves - 3 nos
Cardamon - 2 nos.
Anise Seed - 1
Cinnamon - 1 inch stick
Fennel seeds - 1 tbsp
Mint leaves - 5 nos.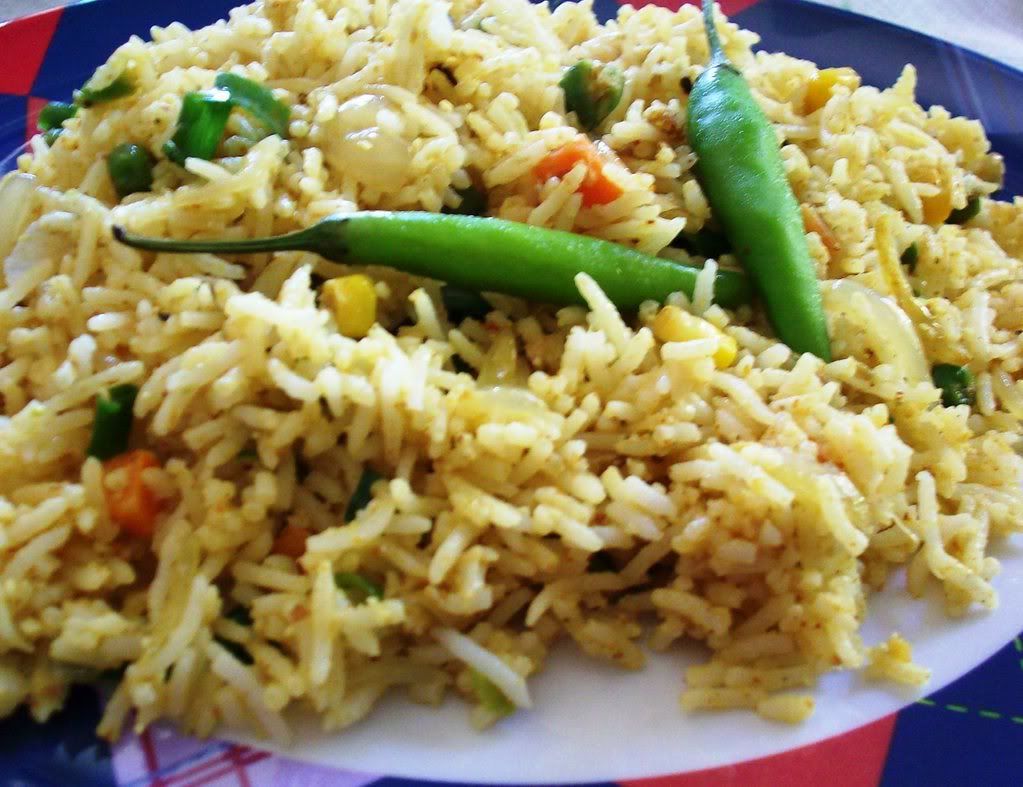 Method
Cook the rice in the electric cooker with some oil to prevent sticking.
Once its done, take it out and let it cool in a wide basin to prevent lumps.
Boil the veggies other than the spring onions till completely cooked.
In the mean time combine all the ingredients under the 'grind' section in a blender and blend into a smooth paste.
Heat 2 tbsps of oil, add the pepper and then the onions and fry them till golden brown.
Add the cooked veggies, salt, turmeric powder and garam masala powder. Saute till the oil seperates from the sides.
Add the ground masala and stir fry the masala on low till the raw smell disappears. This should take only a couple minutes.
Now add the cooled rice to the mixture and keep stirring on low till the rice gets mixed with all the masala. Adjust salt if required.
Serve with cool yogurt raita.