I guess I am back after a short break. Not that anything important has been going on.. but there has been some ad ons here and there that made the normal life Oh so hectic. Well.. now that I am back, I feel good. I have been cooking dishes and taking pictures, with just absolutely no time to do a write up. Sia Dear, Thanks for being concerned. It does make one feel good when people miss you. This week started pretty good with an awesome weekend away with friends to the Oregon coast. It started off with an early breakfast at A & K's place as usual (They are pretty much our food source for the weekend). Then off we drove to the coast, some 15 of us. Played some volley ball.. ate some awesome pizza... and chatted our time away to glory. As my husband described it.. perfect weather, perfect company and perfect Pizza. One of our girls, our dearest friend S is going to relocate. I hope this weekend would be a good memory for her for years to come. Hoping to spend many more weekends like this with my buddies. Well.. I might just get carried away if I start talking about the fun we have.. So onto how Kichedi appeared at my kitchen countertop.

After cooking for the brady bunch (and then some..), for the entire weekend, our dear friend A fell sick. It feels bad to see someone so active and up on her toes all the time, sitting still and suffering. This was probably the only thing I could do to make her feel a little better.. cook up some comfort food. Hot and Healthy to give her some boost. Onto the recipe now..

Ingredients
Rice - 1 cup
Toor Dal - 1/3 cup
1/2 cup Potatoes, cubed
1/2 cup Carrots, sliced
1 long Eggplant, cut into big chunks
1/2 cup Onions, thinly sliced
2 tsps of ginger garlic paste
Mustard - 1 tsp
Jeera - 1/2 tsp
Curry leaves - 1 sprig
Urad Dal - 1 tsp
Turmeric powder - 1/2 tsp
Ghee - 1 tbsp
Salt to taste
Roast and grind into powder
(I always do this in advance and store)
Red chillies - 2 nos (can adjust according to spice level)
Dhania - 1 tbsp
Jeera - 1 tsp
Cinnamon - 1/2 inch stick
Cloves - 3-4
Elaichi - 1-2 nos
Saunf - 1/2 tsp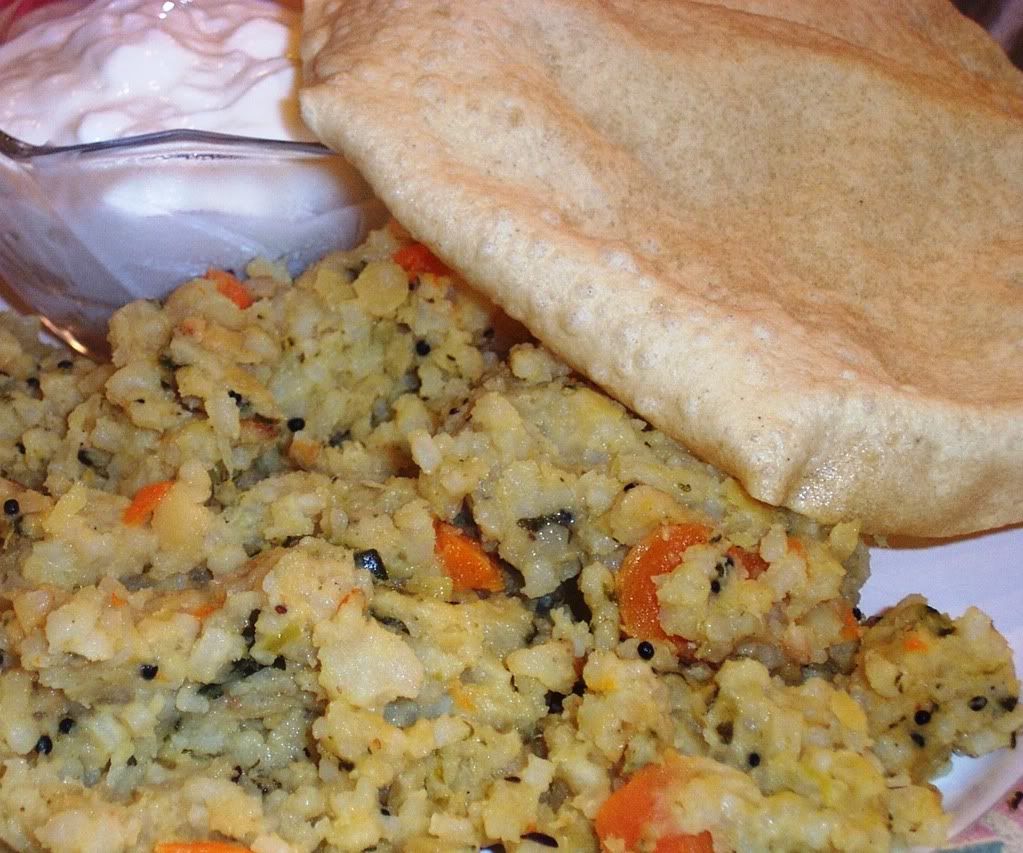 Method:
Heat oil in a pressure cooker directly. Add mustard, Jeera, Urad Dal and curry leaves.
After mustard splutters, add the ginger garlic paste and saute.
Now add the onions, saute for a couple minutes and add the veggies one by one, sauteing each for a minute as you go.
Add the ground powder to the veggies along with the salt and turmeric powder and mix well. Saute this for about a minute.
Now add the rice and the toor dal. Mix everything and immedietely pour water. There should be a couple of inches of water standing above the mixture.
Close the lid and pressure cook it for 5-6 whistles. This should generally cook longer to get the semi-solid consistency.
Open the pressure cooker. Pour the melted ghee on top and mix once before serving with yogurt and lime pickle.